Don't let the spooky name scare you. Phantom Cookies is a versatile strain that will give you a blast of euphoria and creative energy followed by deep relaxation. Phantom Cookies is a sativa-dominant hybrid, perfect for short bursts of activity in the daytime or after-work socializing.
Phantom Cookies Specs
THC: 20-25%
Genetics: Grandaddy Purple x Cherry Pie
Flowering time: 56-63 days
Yield: 3oz/ft2
Height: Short
Growing Difficulty: Easy
Where To Buy Phantom Cookies Seeds And CBD Flower
You can buy Phantom Cookies with exclusive discounts from our partner sites by following the links below.
Where To Buy Phantom Cookies Seeds
Where To Buy Phantom Cookies CBD Flower
Trusted Hemp Flower Companies
Phantom Cookies Genetics
Phantom Cookies was originally grown by celebrated breeder Ken Estes of Grand Daddy Purple Collective. The northern California strain combines kush and landrace sativa genetics with a cross between Granddaddy Purple and Cherry Pie. Phantom Cookies has a 65:35 sativa-to-indica ratio.
Granddaddy Purple
Phantom Cookies gets its indica side and complex fruity flavor from its father, Granddaddy Purple. GDP is a potent medical strain that is sought after for stress and pain relief. Granddaddy Purple has won several awards, including the 2012 High Times Bay Area Medical Cannabis Cup for Best Hybrid.
Cherry Pie
Phantom Cookies' mother, Cherry Pie, is the descendant of GDP and Durban Poison, an African landrace sativa. Cherry Pie, also known as Cherry Kush, adds to Phantom Cookies' fruity flavor and medicinal effects.
Appearance
Phantom Cookies' dense nugs feature light green tones with subtle lavender accents and golden-orange pistils. A heavy layer of crystalline trichomes coats the buds.
THC Content
Phantom Cookies is a potent hybrid, typically registering between 20-25% THC. Novices should be careful with this strain, especially if you're susceptible to anxiety or paranoia. Even seasoned consumers may want to start slow with Phantom Cookies, which may cause initial dizziness.
Aroma And Flavor
Phantom Cookies has a complex taste and smell with earthy flavors and strong hints of berry, grape, roasted nuts, citrus, and cinnamon. The strain's dominant terpenes are limonene, beta-caryophyllene, and humulene. You may want to consume Phantom Cookies with a dry herb vaporizer to enjoy the subtleties of the flavor.
Effects Of Phantom Cookies
Phantom Cookies comes on strong with an immediate blast of uplifting euphoria. After the initial sativa-like effects, a characteristic indica relaxation sets in with the munchies and couch-lock. Medical marijuana (MMJ) patients choose Phantom Cookies to relieve stress, depression, and pain. MMJ doctors also frequently recommend this strain to manage symptoms of ADD/ADHD, PMS, and PTSD. Phantom Cookies tends to cause cottonmouth and red eyes, so you'll want to stay hydrated and keep some eye drops handy.
Energetic
Phantom Cookies provokes alertness and makes an excellent substitute for coffee. The effects start with a temporary burst of energy, perfect for socializing or getting things done.
Creative
Phantom Cookies is a favorite among artists. The strain imparts focused energy that's excellent for brainstorming sessions. Phantom Cookies can have an almost psychedelic effect when consumed in larger quantities.
Appetite Stimulant
Consumers should keep plenty of snacks nearby when partaking of Phantom Cookies. The desire for food isn't the only appetite Phantom Cookies stimulates. Many consumers report that the strain acts as an aphrodisiac.
Euphoric
Most consumers of Phantom Cookies report happy feelings and a sense of peaceful euphoria, making the strain a fantastic choice for social gatherings.
Growing Phantom Cookies
Phantom Cookies is a relatively easy strain to grow, although intermediate and advanced growers will see the best results. Phantom Cookies seeds produce extremely short plants, often less than 20 cm tall. However, the diminutive plants make up for their short stature with extra-large, dense flowers and can yield up to 74 grams per square foot. The leaves take from the GDP genetics with indica structure and purple hues.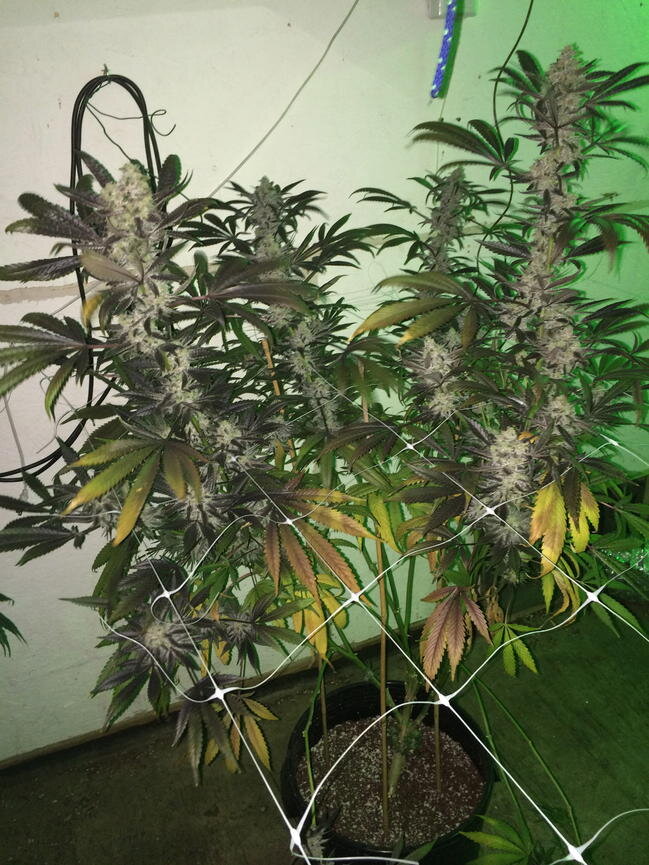 Phantom Cookies prefers a warm, humid Mediterranean climate. Phantom Cookies plants respond well to topping, Sea of Green (SOG), and Screen of Green (ScROG) training techniques.
Indoor
Phantom Cookies seeds produce short, bushy plants, taking after their indica side. It's compact size and preference for warm climates makes Phantom Cookies an ideal strain for indoor growing. The plants prefer temperatures between 21-26 degrees Celsius and enjoy a little extra humidity. However, you'll want to be careful with humidity levels, especially if you live in an area that's prone to mold and mildew.
When grown indoors, Phantom Cookies plants finish flowering in around 8-9 weeks. In the hands of an experienced gardener, tiny Phantom Cookies plants can produce indoor yields of up to 28 ounces per square meter.
Outdoor
Phantom Cookies plants will be ready to harvest in early October. Growers should make sure to harvest before the first frost. Phantom Cookies can produce an outdoor yield of up to 32 ounces per plant.
Similar Strains
Phantom Cookies has many characteristics in common with popular northern California strains. Some similar strains include:
Sour Kush
Candyland
Girl Scout Cookies
Cherry Cookies
Thin Mint GSC
Reviews
Phantom Cookies consistently earns positive reviews. Some examples include:
Cannafo gives the strain a rating of 4.62/5.
"Phantom Cookies is now listed among my top ten favorites."- netguy9
"Absolutely wonderful strain. Very positive, relaxed heavy buzz." – emiryrussy
This hybrid's crushing euphoria shakes the mind awake with creativity and happiness. – Sticky Guide
Final Thoughts
Phantom Cookies is a fantastic strain for taking semi-frequent tokes during creative work. The strain remains highly recommended among the medicinal cannabis community. Beginning herb-consumers should exercise caution with Phantom Cookies. The high-THC level makes the strain better for more experienced cannabis consumers. Phantom Cookies is widely considered one of the more delicious cannabis strains.