Dr. Ganja was one of the early players in the hemp flower industry. The brand's online dispensary remains one of the most recognized names among CBD aficionados. But with the vast selection of quality hemp and CBD outlets online, does Dr. Ganja CBD flower live up to the hype? Let's take a look.
About Dr Ganja
When Dr. Ganja began in 2009, the founders were on a mission to help Los Angeles residents obtain easier access to the medical cards required to purchase legal cannabis at dispensaries. By 2011, Dr. Ganja had developed a grow facility where their team experimented with different cannabis strains, including high-CBD varieties.
Dr. Ganja became so enamored with cultivating cannabis that they began helping other cultivators get started. The company's side business, GrowSetup, helps new cannabis growers design and build their spaces.
The founders and their partners launched DrGanja.com in 2017, and the following year, they added lab-tested hemp flower to their inventory of CBD products. The company plans to expand its offerings by adding an earth-friendly clothing line.
Dr Ganja Hemp Flower
Dr. Ganja offers hemp flower in a variety of presentations to fit different budgets and customer needs. Buyers can choose from a range of hemp flower products, including:
Trim and shake packages
Small buds
Cone and wrap-style prerolls
You can try out Dr. Ganja's trimmed hemp flower for as low as $10 per gram. 14-gram packages of untrimmed CBD flower cost $40. Hemp prerolls start at $12.
Some of Dr. Ganja's most popular hemp flower varieties include:
Dr. Ganja conducts third-party lab tests for all of their hemp flower products. Customers can view test results for each batch directly on the website. Buyers can be sure that Dr. Ganja's hemp flower contains less than the legal limit of .3% delta-9 THC. The tests also ensure that the product is free of contaminants, such as pesticides, molds, and heavy metals. Dr. Ganja's Certificates of Analysis include precise cannabinoid amounts and terpene percentages.
Dr. Ganja Reviews
Several customer reviews point out that the "trimmed" buds aren't well-manicured. This observation could indicate either machine-trimming or mix-ups between trimmed and untrimmed buds during packaging. A couple of reviews mentioned that the buds were a bit "seedy," but the customers were otherwise satisfied with the product.
Overall, most Dr Ganja reviews have been positive. All Dr. Ganja products arrive in vacuum-sealed, two-way humidity packages in plain packing boxes. Each strain comes with an individual Certificate of Analysis and legal statement to avoid potential misunderstandings with law enforcement.
Other CBD Products Offered By Dr. Ganja
Dr. Ganja began to amass an extensive inventory of legal cannabis products as early as 2017 and now carries items from over 50 hemp and CBD brands. Dr. Ganja's offerings include all the typical items you'd expect from an online dispensary plus products you probably didn't know existed.
Dr. Ganja stocks full product lines from trusted brands, such as:
Buddha Teas
Dutch Natural Healing
Johnny Apple CBD
The list goes on. Additionally, the website offers Dr. Ganja branded products, such as 99% Pure CBD isolate, T-shirts, and bumper stickers.
Dr. Ganja Website And Ordering Process
Visiting an online dispensary that includes such an astonishing selection of products may be overwhelming to some consumers. Unfortunately, Dr. Ganja compounds the problem with outdated website design.
Product categories start with large blocks of linkless text without any menu to take you to subcategories. On mobile devices, finding the product you're searching for involves seemingly endless scrolling, which may not be compatible with today's busy lifestyles.
Even though the website isn't particularly easy on the eyes, Dr. Ganja's ordering process is straightforward. Once you've passed the potentially lengthy stage of selecting your products, ordering is a snap.
Dr. Ganja Customer Service
Dr. Ganja makes up for its subpar website through outstanding customer service.
Orders received on weekdays are shipped within 24-48 hours and typically arrive within 2-6 business days. Dr. Ganja offers free standard shipping via USPS for customers within the United States. The company also ships to a growing number of countries around the world.
Dr. Ganja allows returns within 30 days of receipt of your order. The company will reimburse shipping charges for returning the item.
Teamwork seems to be a core value for Dr. Ganja. The company runs a rewards program for loyal customers. Dr. Ganja also invites customers to do video reviews, participate in their blog, or become affiliates.
Dr. Ganja Coupon Codes
The Dr. Ganja site isn't plastered with banners and popups with discount codes and special offers like some dispensary sites. But that doesn't mean that Dr. Ganja coupon codes don't exist.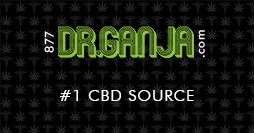 Buyers can also get discounts through Dr. Ganja's rewards program. Each customer automatically receives a personalized rewards code to share with friends. If someone you refer purchases from Dr. Ganja, you both get matching 10% discounts. Additionally, customers can choose to receive alerts about special offers by subscribing to the Dr. Ganja newsletter.
Dr. Ganja For Wholesalers
Dr. Ganja offers wholesale opportunities for all of its hemp flower products and its branded CBD isolates. Companies will be required to provide an Employer Identification Number (EIN) and a valid Reseller's License. International wholesalers will need a Business ID Number from their home country.
Conclusion: Should You Try Dr. Ganja?
Aside from the cluttered website, we can't find a reason not to order from Dr. Ganja. The company offers quality CBD and hemp flower products and stellar customer service. Their already reasonable prices can be lowered even more by using one of the many Dr. Ganja coupon codes you can find online.
If you're looking for a one-stop shopping experience with reliable, fast delivery, you may want to give Dr. Ganja a try.