Veteran Hemp and CBD manufacturers, Avid Hemp frequently top the "best of" charts for CBD oils and other products. While the company has only been in business since 2017, its founders have over two decades of experience as hemp advocates pushing for CBD and hemp research.
Let's take an honest look at our Avid Hemp review to see if the company lives up to its stellar reputation.
About Avid Hemp
Based in Tampa, Florida, Avid Hemp has over twenty years of experience in the hemp industry. The company remains committed to sustainable farming practices and above-average customer service. Avid Hemp sources hemp for its products from sustainable organic farmers in Florida and Colorado. The company traces its manufacturing process from seeds to final products. Avid Hemp's customer service includes fast delivery, competitive prices, and unconditional product guarantees.
Avid Hemp CBD Oil
Avid Hemp extracts CBD using an advanced CO2 extraction method. Avid Hemp CBD oils use certified non-GMO, organic MCT oil that supposedly increases the bioavailability of the CBD to 95%. Like any reputable CBD oil company, Avid Hemp sends each batch of their products for third-party lab testing and displays the Certificates of Analysis on their website.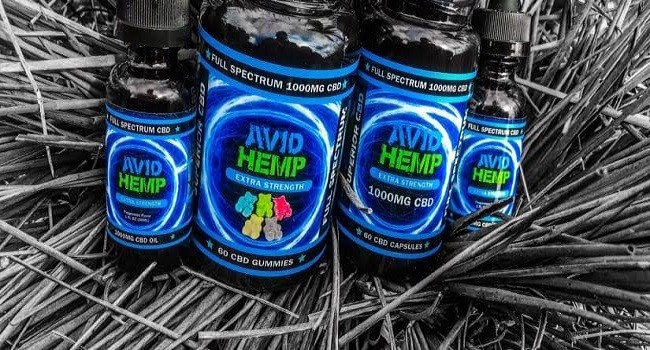 Avid Hemp full-spectrum CBD oil comes in several sizes from 300 mg to extra-large 5,000-mg bottles. Avid Hemp CBD oils are available in natural, mint, and peach flavors. The company also offers a nighttime CBD oil formula featuring mint and melatonin. Customers can also purchase Avid Hemp full-spectrum CBD oil in capsules. Keto fans may be interested in Avid Hemp's CBD Keto Diet Oil.
Additionally, Avid Hemp offers full-spectrum CBD oil for pets in natural and bacon flavors.
Other CBD Products Offered By Avid Hemp
In addition to full-spectrum CBD oil, Avid Hemp offers a wide selection of other CBD products, including:
Avid Hemp CBD Reviews
Avid Hemp CBD Oil reviews and Avid Hemp Vape Juice reviews have been overwhelmingly favorable.
Avid Hemp earned a score of 8.8 out of ten on US Reviews, and 100% of customers said they would buy from the company again.
"I absolutely love this company, and the products work so good." – Michelle Griffin on Google Reviews.
"Avid Hemp creates cannabidiol products that contain high-grade CBD…" – T.J. La Planta fromhl comic.com.
Visitors toCBDHempReview.com gave Avid Hemp a score of 4.3 out of 5.
Calm with Yoga ranks Avid Hemp CBD oil among the best choices for sleep and other conditions.
Avid Hemp Website And Customer Service
Avid Hemp's website is well-organized and easy to navigate. However, the chatbot makes an annoying sound when it pops up on each page. It's a small price to pay for a smooth ordering process and fast delivery times.
Overall, the company is well respected for its exceptional customer service. Nearly every Avid Hemp review mentions the company's quick response times and outstanding customer service. Customer support is available around the clock via telephone, chatbot, or email.
Avid Hemp has a reputation for prompt delivery and attempts to send all orders out by 3 pm on the same day from Monday through Friday. Orders arrive via USPS or FedEx within 1-5 days, depending on the zone. Oversized items use a specialist courier company and incur an extra delivery charge. Avid Hemp does not offer weekend delivery.
The company provides a 30-day product guarantee for a full refund. However, the items must be unopened with the seals intact.
Avid Hemp Coupon Codes
Consumers can find a host of Avid Hemp discount codes online, some offering savings of up to 50%. Avid Hemp email subscribers qualify for special promotional discounts. Customers should also keep an eye out for the company's occasional inventory sales.
Avid Hemp customers receive 30% off and free shipping with theAVID30 code.
Avid Hemp For Wholesalers
Avid Hemp offers a variety of options for wholesale partners, including tiering of order amounts and discounts on bulk orders. Customer support is available seven days per week to assist wholesale clients. Avid Hemp maintains thousands of distributors throughout the United States so that wholesale clients can purchase CBD products locally.
The company also maintains a robust affiliate marketing program. If you're a blogger looking to make some passive income by endorsing a reputable brand, you may want to investigate Avid Hemp's affiliate opportunities.
Conclusion: Should You Try Avid Hemp?
Overall, customers seem to be satisfied with Avid Hemp products. The company offers high-quality CBD products from fully traceable, organic hemp sources. All of Avid Hemp's products, including the vape juices, contain CBD extracted with CO2 and natural terpene flavorings. The company is refreshingly transparent about their ingredients and displays third-party lab results for all products on the website. Customers can count on Avid Hemp to provide them with consistent CBD products every time they make a purchase.
One detail gave this reviewer pause, however. Although the company labels its CBD oils and other products as "full-spectrum," they also are supposedly THC-free. Full-spectrum products, by definition, contain some THC, albeit less than .3%. It makes one wonder why the company didn't choose to call their products what they actually are: broad-spectrum.
But don't let that little detail keep you from buying from Avid Hemp. There can be no doubt that the company offers superior CBD products and excellent customer service.