Hawaiian Haze CBD has become increasingly popular and recently earned First Place in the 2020 High Times Hemp Cup. With its upbeat and creative vibe, Hawaiian Haze CBD makes the perfect strain for a relaxing beach vacation that includes outdoor activities like hiking or watersports. Hawaiian Haze hemp flowers encourage social interactions, so don't be surprised if you start greeting strangers with a renewed sense of aloha.
Where To Buy Hawaiian Haze Seeds And Flower
Below you will find some of our favorite vendors you can buy hemp/cannabis seeds and CBD hemp flower from.
Where To Buy Hawaiian Haze Seeds
Where To Buy Hawaiian Haze CBD Hemp Flower
Genetics
Although it was bred by Oregon CBD, sativa-dominant Hawaiian Haze hemp evokes the spirit of Polynesia with its fruity flavors and upbeat effects. A 60:40 sativa-to-indica ratio gives the strain an energetic yet laid-back vibe that's equally suited for embarking on an adventure or chilling in a hammock. Hawaiian Haze CBD is a cross between DC Haze and ERB.
DC Haze
Although you won't find much about Hawaiian Haze's father online, DC Haze is a distant cousin of the Haze family tree. Legendary breeder Sam Skunkman originated the Haze lineage in the 1970s. Haze varieties possess strong sativa genetics that give Hawaiian Haze CBD her powerful euphoric effects and lanky stature.
Early Resin Berry
Early Resin Berry is perhaps the most popular strain for hemp breeders. ERB's ultra-high CBD content and almost non-existent THC levels make it the perfect mother strain for modern CBD hemp cultivars like Hawaiian Haze.
Appearance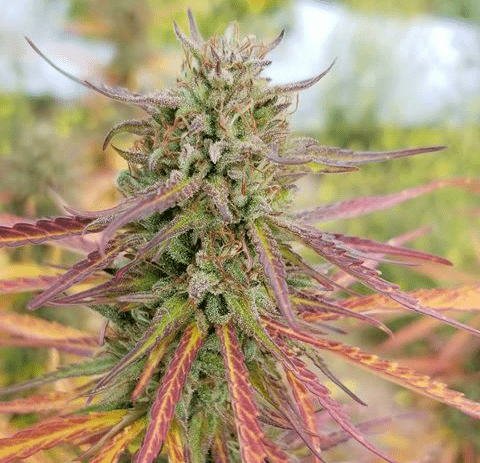 Hawaiian Haze buds dazzle the senses with a blend of chartreuse to emerald green hues interspersed with fiery crimson pistils. The flowers grow light and airy, often accompanied by purple sugar and fan leaves.
CBD Content And Terpene Profile
Hawaiian Haze hemp varieties range from 12% to a whopping 21% CBD. All Hawaiian Haze CBD flowers contain less than the legal limit of .3% THC, but most varieties lean more toward .12%.
The most common terpenes in Hawaiian Haze CBD are myrcene and beta-caryophyllene. The strain also contains a healthy dose of lemony humulene along with traces of alpha-bisabolol and borneol.
Aroma And Flavor
Hawaiian Haze's tropical fruit flavor has a sweet-tart character like mango mixed with underripe pineapple and papaya. Hawaiian Haze has a subtle citrus aroma enlivened by chamomile and lavender hints and diesel overtones.
Effects Of Hawaiian Haze CBD
Hawaiian Haze CBD makes an excellent strain for relaxed productivity. Hawaiian Haze hemp flowers can help lift the spirits, ease pain, and relieve anxiety without causing drowsiness or couch-lock.
Energetic
Hawaiian Haze's uplifting energy can bring some sunshine to even the dullest of winter days. Don't expect to spend the day sitting on the couch. Hawaiian Haze imparts the kind of energizing effects that may make you decide to tackle some of those longstanding household or work projects.
Creative
Consuming Hawaiian Hemp flowers tends to enhance mental focus and encourage thinking out of the box. The onset of the strain's effects is like the sun parting the clouds, making room for creative inspiration. A little Hawaiian Haze before a brainstorming session can make the ideas flow as smoothly as an ocean breeze.
Euphoric
Hawaiian Haze's mood-elevating effects make it a perfect hemp strain for when you're feeling down. No human is an island, and a few puffs of Hawaiian Haze will remind you of that fact. Hawaiian Haze hemp flowers put most people in a chatty mood, making the strain ideal for backyard parties and other casual social gatherings.
Growing Hawaiian Haze CBD
Hawaiian Haze's long flowering time may try growers' patience, but the ultra-high yields will be worth the wait. Growing Hawaiian Haze hemp takes a bit of experience, making the strain more suited for intermediate or advanced growers.
Indoor
Like many sativa-dominant hybrids, Hawaiian Haze tends to grow tall. The strain's tendency to shoot upwards rather than bush out can be a challenge for indoor growing, especially in smaller spaces. Hawaiian Haze hemp plants aggressively reach for the light and stubbornly resist Sea of Green techniques.
Indoor growers will need to top the plants several times during the vegetative stage to encourage them to develop side branches. Advanced training methods will be required to open up the plant's center and expose more of the buds to the light. Otherwise, you'll be stuck with a tall and spindly plant with just one fully developed central cola. Hawaiian Haze flowers through week 14 and produces average yields of around 350 grams per square meter.
Outdoor
Hawaiian Haze CBD can be a dream to grow outdoors in a relatively warm environment. The strain isn't suitable to climates that have early winters and are prone to frost. Outdoor Hawaiian Haze hemp growers can often be seen biting their nails as they await the late November harvest. But when they finally see the strain's incredible yields, some may want to look to the sky and say, "Mahalo!"
Similar Strains
Hawaiian Haze CBD is similar to other balanced hemp hybrids like Cherry Wine, another useful all-purpose strain to keep on hand. Hawaiian Haze's flavor and aroma share a lot in common with its Haze family relatives and modern hybrids, such as:
Orange Crush
Silver Haze 
Maui Wowie
NYC Diesel
Lemon Skunk
Hawaiian Haze CBD Reddit Reviews
Hawaiian Haze CBD remains one of the most popular hemp flower hybrids, and it shows in the strain's stellar reviews:
"The lasting effect of this is amazing!" – Arthur Milleron.
"Subtly relaxing and uplifting at the same time. [I] can see this being a good strain for mornings when calm focus is desired." – FightThaFight from Reddit.
"It helps me with my anxiety and perks up my mood and energy." – Danielle W.
Final Thoughts
Hawaiian Haze CBD offers everything a discerning connoisseur could want from a daytime hemp hybrid. The strain combines the energy of a sativa with the relaxing effects of CBD to help consumers cast away stress while still maintaining productivity. With its pleasant aroma and fruity taste, Hawaiian Haze makes a delightful after breakfast treat. Social butterflies can't beat this versatile strain for both work meetings and lively parties. Patient growers with some experience will be richly rewarded with Hawaiian Haze's exceptionally high yields.