From Sensi Seeds to Royal Queen Seeds, Amsterdam has dozens of celebrated seed banks that sell online. However, just because a cannabis company is in the Netherlands doesn't necessarily mean it's "top tier." Dutch Seeds Shop is one noteworthy example.
If you've ever run across DutchSeedsShop.com, then you've probably heard dozens of complaints about this company's products and services. So, you may be wondering whether these bad reports are true? Does Dutch Seeds Shop stink, or does it have something unique to offer?
Anyone debating whether to order through Dutch Seeds Shop should keep reading. In this Dutch Seeds Shop review, we'll go over all the details surrounding this company so you could make an informed purchase.
What Is Dutch Seeds Shop?
According to the company's main page, Dutch Seeds Shop entered the cannabis market in 2001. However, on Dutch Seeds Shop's Facebook page, Mr. Ivan Kodinov says he created this company in 2011. It's more likely the latter date is authentic.
One thing we know for sure is that Dutch Seeds Shop is headquartered in Plovdiv, Bulgaria. The company's name refers to where they get their seeds and not the shop's actual location.
What Are Dutch Seeds Shop's Best Products?
Dutch Seeds Shop claims to offer over 200 marijuana strains, but most reviewers say there are probably ~100 strains. Even still, that's a pretty impressive range for an online seed bank.
Every cultivar on Dutch Seeds Shop's website comes with an informative synopsis that includes typical effects, flavors, and a cultivation profile. Speaking of cultivation, the company also has a blog and growing guide designed to help new cultivators. Although Dutch Seeds Shop doesn't offer a germination guarantee, it claims its seeds will germinate 97 percent of the time.
Customers could choose between feminized, high-THC, high-yield, or autoflowering seeds on Dutch Seeds Shop's main webpage. There's also a "best-selling seeds" tab where you could find some of the hottest strains in Dutch Seeds Shop's catalog. If you want to get extra specific, pull down Dutch Seeds Shop's "Weed Seeds" tab and select one of the many categories.
To give you a sense of Dutch Seeds Shop's offerings, here are a few of the company's best-selling strains:
Blue Dream Feminized
Made with a cross of Blueberry and Haze, Blue Dream is a famous California hybrid with a slight sativa edge. With THC levels around 20 percent, this fruity strain offers an intense psychoactive high. Due to Blue Dream's sativa dominance, it's best to use this strain earlier in the day so it won't interfere with sleep. Inexperienced tokers should take it easy if it's their first time sampling these berry-licious buds.
According to Dutch Seeds Shop, Blue Dream feminized seeds grow fairly tall and perform best in a Mediterranean environment. On average, it takes 56 – 70 days for this strain to reach the flowering stage.
Rainbow Kush Feminized
True to its name, Rainbow Kush is a multi-colored hybrid that's sure to catch every toker's eye. But this indica-heavy strain is far more than a pretty flower. Indeed, this mix of Dancehall and Blueberry bursts with a unique blend of fresh berry and spice. With THC between 15 – 20 percent, Rainbow Kush provides users with a relaxing "couchlock high" perfect for after-dinner use.
Like most indicas, Rainbow Kush seeds are easy to grow indoors in a mild climate. This strain will mature within 56 – 63 days and yield about 1.5 oz per ft2.
Strawberry Banana Feminized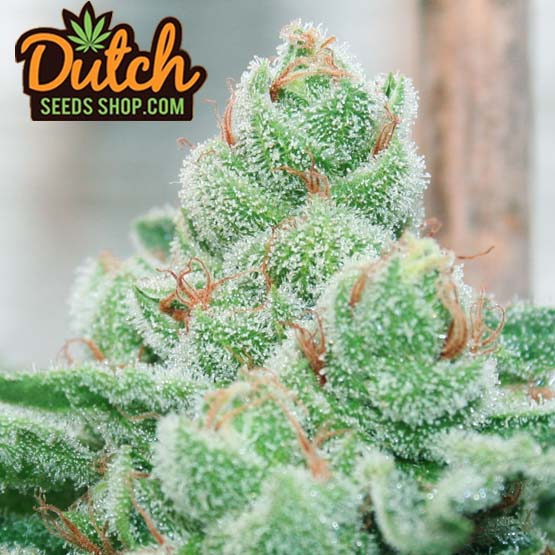 Anyone who savors fruity flavors might want to grow Dutch Seeds Shop's Strawberry Banana feminized seeds. This cross between Banana Kush and Serious Strawberry has all the sweet, smoothie-like flavors you'd expect from its name. Plus, as a 70 percent indica, this strain is great for those who enjoy a relaxing nighttime session.
In terms of cultivation, Dutch Seeds Shop says its Strawberry Banana seeds grow to a medium height and yield 1.4 oz per ft2. You should expect this strain to reach the harvesting stage at around 56 – 63 days.
Grape Ape Feminized
For a full-body calm, you can't go wrong with the Grape Ape hybrid. This 90 percent indica is a seriously sedating strain with THC anywhere between 15 – 25 percent. While this strain has a noticeable tinge of fruity grape, it's also well-known for traces of skunky and musky strains. Be sure to reserve Grape Ape for times when you need a lot of calm.
The Grape Ape seeds in Dutch Seeds Shop's catalog typically flower within 42 – 56 days and grow to a medium height. Most indoor cultivators rake in 1.6 oz per ft2 from this strain.
How Do You Pay For Seeds On Dutch Seeds Shop?
Dutch Seeds Shop has four payment options, but the store heavily promotes cryptocurrencies. In addition to Bitcoin, Dutch Seeds Shop now accepts Ethereum, Bitcoin Cash, Litecoin, and USDC. Anyone who pays with one of these currencies will get a 15 percent discount.
The second most popular way to checkout with Dutch Seeds Shop is to go through PayPal. Shortly after you put your order through, you should receive a payment in your PayPal file from Dutch Seeds Shop.
If you're a US customer, then you could use a VISA or Mastercard. Just keep in mind you will need to process your credit card through Mesh Money.
Lastly, customers who have a US bank account could send Dutch Seeds Shop an e-check.
What's Dutch Seeds Shop's Shipping Policy?
One of the perks of ordering through Dutch Seeds Shop is that it ships worldwide. Since Dutch Seeds Shop sells its seeds for "souvenir purposes," anyone over 18 could technically purchase from their website.
Although Dutch Seeds Shop strives to send seeds worldwide, it does reserve the right to withhold products depending on a country's cannabis laws. If you have any questions, please email Dutch Seeds Shop and ask whether it's selling seeds to your area.
In terms of shipping speeds, Dutch Seeds Shop claims to send your cannabis seeds within one to two business days after receiving payment. No matter where you're ordering from, Dutch Seeds Shop tries to get its seeds to your doorstep within 5 – 21 business days. FYI: Dutch Seeds Shop uses TNT Priority Airmail for all of its packages.
While Dutch Seeds Shop offers "guaranteed shipping," this doesn't mean it will refund your order. According to Dutch Seeds Shop's terms & conditions, the company is only responsible for re-sending an order if you don't receive your initial package. You cannot send your seeds back to Dutch Seeds Shop for a refund.
There are three flat-rate shipping options customers could choose from on DutchSeedsShop.com. At the low end, you could pay $10.00 for non-traceable & non-guaranteed shipping. With this option, you should get your package within 30 – 60 business days; however, Dutch Seeds Shop won't send a new package if your first one gets lost in the mail.
For extra security, you could spend $20.00 for guaranteed, traceable shipping. While it will still take 30 – 60 days for your package to arrive, you could use 17track.net to follow your shipment.
The last shipping option on Dutch Seeds Shop is FedEx traceable shipping for $40.00. The distinguishing perk for this shipping method is that your seeds should arrive within 3 – 7 business days. Just keep in mind, this option is not available for people living in Europe.
One final note: stealth shipping is included with all of these orders. Typically, the company will hide their seeds in a t-shirt, but it could also send your seeds in an old mobile device.
How Is Dutch Seeds Shop's Customer Service?
A common complaint people have with Dutch Seeds Shop is its lack of customer support. If you're used to working with big seed banks like Seedsman, you will be disappointed with Dutch Seeds Shop's customer care division. While this company has a Contact Us page and an email address, most customers don't get a timely response.
Although Dutch Seeds Shop promises to email you throughout the transaction process, you may have difficulties reaching the company directly. However, you could try emailing kodinnov@gmail.com or sending a message through the Contact Us portal. If you want to go the extra mile, you could send a letter to Dutch Seeds Shop's official address:
DSS Services Ltd
Prezviter Kozma 3, Plovdiv
Plovdiv 4000, Bulgaria
Does Dutch Seeds Shop Offer Any Deals?
As for deals, Dutch Seeds Shop is best known for offering free seeds with orders above $100. Specifically, you will receive six free feminized seeds with orders above $100. If your checkout total is over $150, then you should get ten free feminized seeds in your package.
If you're interested in flash sales, then you should consider joining Dutch Seeds Shop's email list. You could also follow Dutch Seeds Shop on social media sites like Twitter, Facebook, and Instagram for info on upcoming deals.
What Are Customers Saying About Dutch Seeds Shop?
Currently, Dutch Seeds Shop has a largely positive rating on the review site TrustPilot. Indeed, this company now has an average score of 4.5 out of 5 stars. Almost 80 percent of reviewers gave Dutch Seeds Shop a perfect 5 out of 5.
While this all sounds great, it's a very different story off of TrustPilot. Indeed, many prominent reviewers in the cannabis space don't have nice things to say about Dutch Seeds Shop.
For instance, the site Seedfinder.eu lists Dutch Seeds Shop as a "no-go store." Many customers who wrote on this site said they never received their seeds and didn't hear back from customer support. Even if customers got their seeds, reviewers say these seeds turned out to be male or didn't germinate as advertised.
The cannabis critics on GreenBudGuru also posted a negative review of Dutch Seeds Shop. Although Dutch Seeds Shop wasn't the worst-reviewed seed bank in GreenBudGuru's list, it was near the bottom of the rankings.
The main issues GreenBudGuru had with Dutch Seeds Shop were its lack of customer support, frequent problems with shipping, and inferior seed quality. However, GreenBudGuru did not go so far as to claim Dutch Seeds Shop was a scam. Instead, the reviewers said Dutch Seeds Shop is a legitimate company that's poorly managed.
If you'd like more in-depth info on what customers are saying about Dutch Seeds Shop, you could start with this TrustPilot page. You could then read through GreenBudGuru's updated review and check out Seedfinder. eu's page on Dutch Seeds Shop.
Is Dutch Seeds Shop A Safe Bet?
Even though Dutch Seeds Shop has been around for a few years, it's far from Europe's best seed bank. As you could see from the info above, there are many questions surrounding this business. Until Dutch Seeds Shop straightens out its shipping policies and customer service, you might want to look into higher-rated seed banks like ILGM or Seedsman.
If you are going to order from Dutch Seeds Shop, we'd only recommend ordering a small number of seeds. Please don't spend any more money than you're willing to lose. Only continue working with this company if you feel comfortable after this first experience.