Sativa-dominant Suver Haze promotes an upbeat sense of calm that's perfect for informal social gatherings or outdoor activities like camping or hiking. The strain's complex herbal flavor dazzles the senses, making Suver Haze CBD ideal for seasoned herb cannaseurs who want to try something truly unique.
Below you will find some of our favorite vendors you can buy hemp/cannabis seeds and CBD hemp flower from.
Where To Buy Suver Haze Flower
Genetics
One of the world's foremost cannabis breeders, Oregon CBD managed to infuse Suver Haze with all of the rich characteristics of the fertile Pacific Northwest.
Suver #8
The Suver #8 cultivar carries a bit of mystery as many believe that its parent genetics come from two lesser-known cannabis hybrids, Nevile's Haze and Krishna's Special Sauce. Suver #8 lends Suver Haze CBD its rare terpenes and sativa genetics.
Early Resin Berry
Hemp breeders love Early Resin Berry, also known as ERB. The strain consistently lowers the THC content of nearly every other plant it's paired with. ERB endows its children with a sweet, berry flavor and a pleasant citrus tang.
Appearance
Suver Haze's emerald green buds and rusty orange pistils evoke the spirit of its original Oregon forest home. Some Suver Haze phenotypes display purple swirls around the buds with violet sugar leaves.
CBD Content and Terpene Profile
Typical Suver Haze hemp flowers contain a lofty CBD content that can surpass 20%. The strain's THC levels run lower than standard hemp hybrids, often reaching as low as 1%. This characteristic makes Suver Haze a popular choice among hemp breeders.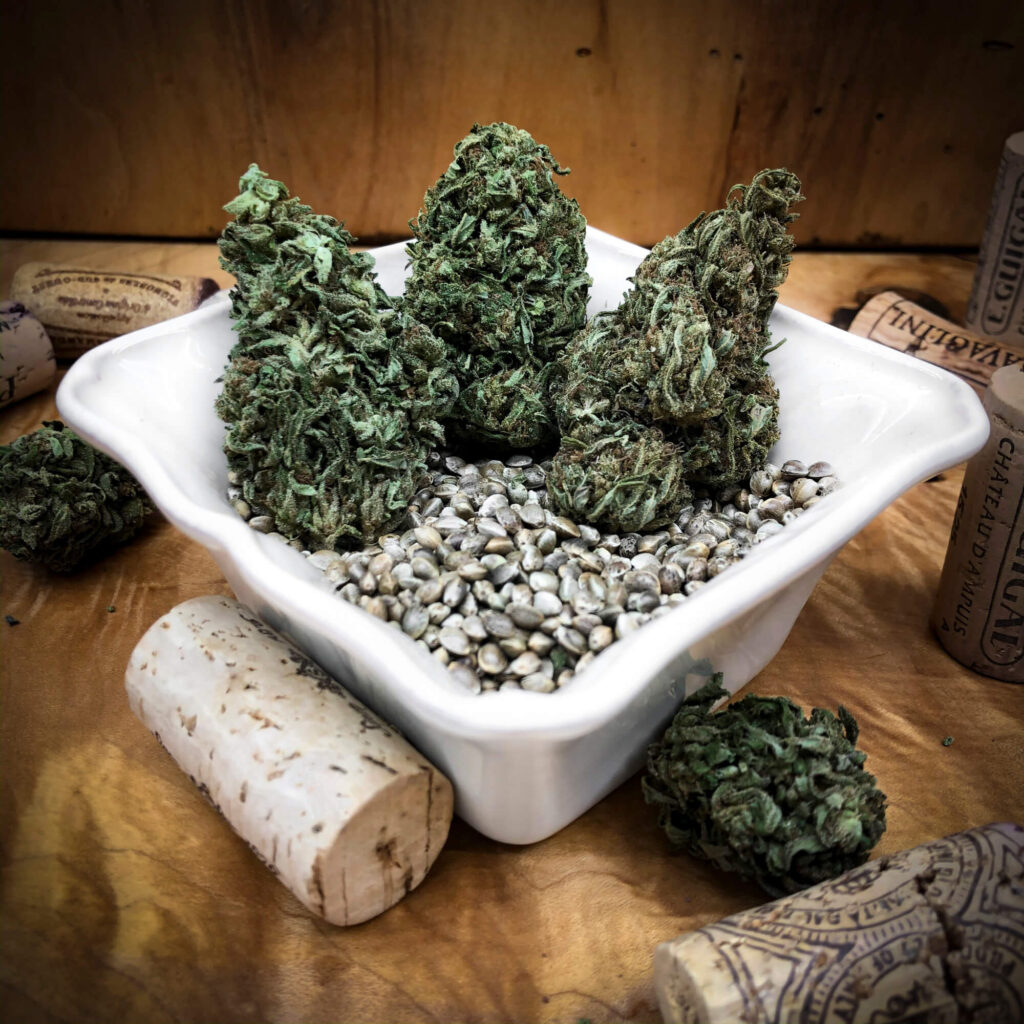 Like many hybrids, Suver Haze has high levels of myrcene and beta-caryophyllene. However, Suver Haze also contains an unusual level of Farnesene that contributes to the strain's distinct taste, aroma, and therapeutic effects.
Aroma and Flavor
Suver Haze buds ignite the tastebuds with wild berry notes coming from a fresh herbal base. The pungent aroma of Suver Haze has an outstanding skunkiness with hints of aged cheese and fragrances reminiscent of lemon or orange zest.
Suver Haze's unique flavor makes it a controversial strain among hemp connoisseurs. Some consumers are turned off by the strain's potent taste and aroma, while others instantly fall in love with Suver Haze.
Effects of Suver Haze CBD
Suver Haze's balanced genetics and high-CBD levels make it an excellent all-purpose hemp strain.
Relaxing
With it's ultrahigh CBD content, Suver Haze hemp makes a particularly good choice for easing stress and tension. Low-THC Suver Haze imparts calming feelings and can be helpful for people struggling with anxiety.
Uplifting
Suver Haze CBD elevates the mood and promotes a sense of well-being. MMJ physicians often recommend Suver Haze for depression.
Mentally Stimulating
Sativa-dominant Suver Haze CBD enhances mental focus and stimulates the creative imagination. The strain's cerebral effects can be beneficial for problem solving or artistic activity.
Growing Suver Haze CBD Strain
Suver Haze CBD is a wildly popular strain among growers and the hemp hybrid won First Place in the 2019 Cultivation Classic. Most hemp farmers grow Suver Haze CBD outdoors with organic methods.
Suver Haze makes an excellent choice for growers of all levels. It's one of the easiest strains to grow, and the plants are unusually mold-resistant. Hearty Suver Haze plants tolerate a wide range of climates.
Suver Haze plants don't tend to produce huge buds like some other hemp varieties. However, Suver Haze CBD is still one of the most high-yielding strains. The plants can grow over six feet tall with compact, popcorn buds along all of the branches.
Where To Buy Suver Haze Seeds
Similar Strains
Suver Haze CBD is similar to several other popular low-THC hemp varieties with complex terpene profiles, such as:
Grape Candy
Charlotte's Angel
Special Sauce
Cherry Wine
Kush Hemp
Reviews
Overall, online Suver Haze reviews have been positive. Consumers seem to be especially impressed by the strain's consistent relaxing effects.
Final Thoughts
Suver Haze's flavor may be too exotic for some palates. However, if you're a fan of uncommon terpenes, you're in for a treat with Suver Haze. If you want to get the full tasting of Suver Haze's remarkable terpene profile, try vaping the buds on a low-temperature setting.
Growers will not be disappointed with Suver Haze CBD. If you've been thinking of adding a low-THC strain to your cannabis garden, Suver Haze won't disappoint.
As far as effects go, you can't beat Suver Haze for relaxation and promoting a positive mental outlook.